Ponte Vedra, FL Pest Control
Quality Pest Control In Ponte Vedra, FL
Overlooking the Atlantic Ocean, the St. Johns County community of Ponte Vedra is home to some of the area's most desirable beaches and scenery. With eclectic eateries, high-end spas and retreats, and locally-owned shops, Ponte Vedra has become a destination for both seasonal visitors and year-round residents. The climate here is moderate for approximately half of the year, with a warm season that spans late spring through early fall. This time also includes a significant amount of rainfall and humidity. But no matter the time of year, your Ponte Vedra home or business is vulnerable to pest problems that can feel insurmountable. With professional assistance from Trad's Pest Control, you don't have to fear pests any longer. Our company has been servicing the greater Jacksonville area since 1971 and to this day, we are more committed to our community than ever before. With eco-friendly treatments and customer service that works for you, we look to provide the highest quality of service no matter the situation. To learn more about our offerings and receive your free, no-obligation inspection contact us today.
Residential Pest Control In Ponte Vedra, FL
When pests problems happen in your Ponte Vedra home, they can feel scary and uncertain, but with professional 
residential pest control
 from Trad's Pest Control, that doesn't have to be the case. As a family-owned and locally-operated business with 50 years of experience, we believe that every homeowner deserves not only the best quality pest control but the very best service as well. That's why when you turn to Trad's Pest Control, you will always experience the professionalism and kindness that our team has become known for. Our business is guided by the tenets of integrity, honesty, and generosity, and we apply those principles to every home we service. Our technicians all undergo extensive training and are QualityPro Certified and utilize only organic products when treating your home. This allows us to ensure the highest quality service and most reliable results every time.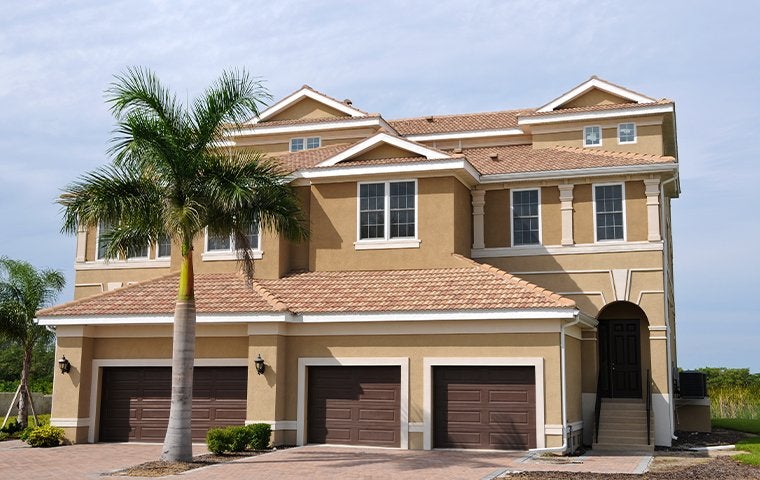 We provide homeowners with comprehensive residential pest control plans in order to maximize savings and minimize pest problems; however, should your needs go beyond the scope of these plans or you simply need targeted solutions, we provide termite, rodent, mosquito, and stinging insect control, as well as lawn care. Let Trad's Pest Control take care of your home; contact us today for more information on our offerings and to receive your free inspection.
Commercial Pest Control In Ponte Vedra, FL
At Trad's Pest Control, we believe that one of the best ways we can help protect the greater Ponte Vedra community is by starting with its businesses. That's why we seek to provide Ponte Vedra businesses with the highest level of commercial pest control around. With 50 years of experience working with local industries of various backgrounds, there is no one more uniquely equipped to keep pests out of your business. Our entire team is QualityPro certified and uses organic products only in our efforts to get rid of pests and keep new issues from occurring. When you entrust the safety of your business to Trad's Pest Control, you'll be privy to the unwavering integrity, honesty, and generosity that we've grown known for over the years. To learn more about our commercial pest control offerings and how you can benefit from them, contact us today.
An Effective Rodent Control Guide For Ponte Vedra Property Owners
When rodents enter your Ponte Vedra property they can bring with them illness, other pests, and property damage. To keep your home safe from rodents and their dangers, try these tips:
Seal up cracks around your home with materials like sheet metal, steel wool, and silicone-based caulk.
Trim back overhanging branches, hedges, or shrubbery.
Store your food in airtight containers.
Clean up any crumbs or spills thoroughly.
Keep your trash in a bin with a lid and take out the garbage routinely.
Keep your attic and crawl spaces well ventilated.
Remove any excess clutter.
For rodent control that you can trust, contact Trad's Pest Control today.
Three Things Everyone In Ponte Vedra Should Know About Cockroaches
Cockroaches are one of the most common pests that Ponte Vedra residents can expect to encounter. Here are three things that everyone should know about these pests:
Cockroaches are mainly attracted to your food. While unhygienic homes are not the only reason why cockroaches find your property, it's a very important one. Things like leaving crumbs and spills behind, allowing dirty dishes to stack up in the sink, and an overall lack of cleanliness is enough to send out a signal to cockroaches that your home is open for business.
They spread illnesses very easily. Cockroaches are responsible for the spread of salmonella, streptococcus, staphylococcus, typhoid fever, diarrhea, dysentery, and other gastrointestinal distress. They're also linked to allergies and asthma attacks in some individuals, as well as increased anxiety due to the stigma that comes with having cockroaches.
Once you have cockroaches, they can prove very difficult to get rid of. Due to the rapid rate at which they multiply, their anti-social nature, and the fact that the most common species, the German cockroach, is developing to be more immune to readily available pesticides, they can be nearly impossible to evict on your own.
With 50 years of experience keeping cockroaches out of local homes and properties, no one is more well suited to provide you with cockroach control than the team at Trad's Pest Control. Our QualityPro certified team uses organic products and their extensive training in order to keep cockroaches out of your property all year long. For more information on our cockroach control services, contact us today.
The Best Rodent Control In Ponte Vedra & Nearby Jacksonville Area Communities: