Cockroach Control in Greater Jacksonville, FL
Are Cockroaches Causing Problems In Your Jacksonville, FL Home Or Business?
Nothing can be quite as unsettling as watching a cockroach scurry across the floor of your home or business. That's because cockroaches are responsible for spreading a large number of bacteria and diseases to everything they come into contact with. When you discover signs of a cockroach infestation on your property, you should reach out to Trad's Pest Control to request a free estimate and get started with cockroach control for your Jacksonville home, as well as exterminator services in Atlantic Beach and pest control in Durbin Crossing.
Our Jacksonville Cockroach Control Process
Our cockroach control service begins with a thorough inspection. We look for cockroach harborage areas in wall voids and high-moisture areas such as bathrooms and kitchen sinks. Then, utilizing top-of-the-line Integrated Pest Management strategies, we will stop cockroaches at the source and prevent them from returning in the future.
For German cockroaches, we take a specific approach to your unique problem. Our team uses a combination of green baits and a crack-and-crevice treatment, including growth regulators, to slow the spread of cockroaches.
Cockroaches are dangerous pests to have in your home or commercial facility. That's why it's important to reach to your local cockroach control experts at the first sign of an infestation.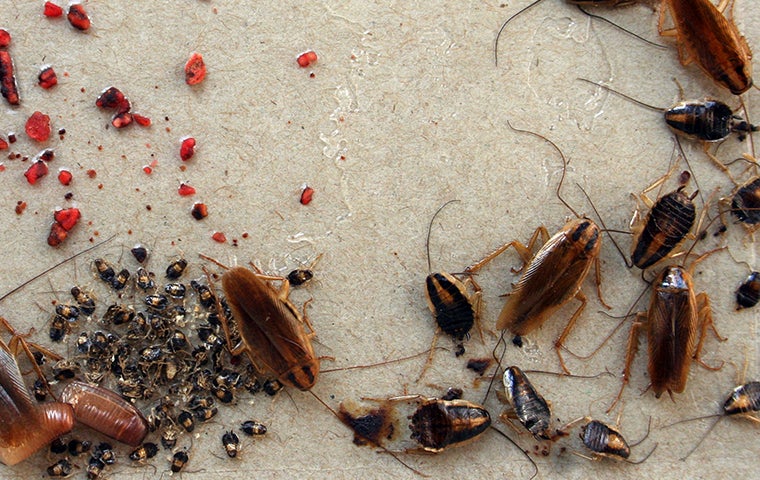 Keep Cockroaches Out Of Your Jacksonville Home
Your Jacksonville home should be a place for you and your family to feel safe, but when you discover a cockroach infestation, your safe space can quickly turn into a nightmare. Our team of pest experts has been helping Jacksonville residents eliminate cockroaches and other common pests from their properties since 1971.
When you partner with Trad's Pest Control, you can count on our guaranteed Jacksonville home pest control and commercial pest control solutions to keep pests out for good!
The Best Cockroach Control In These Jacksonville Metro Area Communities: