The Best Lawn Service In The Jacksonville, FL Area
100% Guaranteed Lawn Service
You deserve a lawn you can be proud of. Here at Trad's Pest Control, that's what we can help you achieve. Our lawn service includes treatment for turf insects, fire ants, weeds, crabgrass, sedges, and disease. Our fertilizer is sustainable and custom blended to Trad's specifications. In addition to having the reassurance that we'll protect your lawn from weeds, diseases and pests, you'll also have access to our professional expertise thanks to our 24-hour webchat. If you're unhappy in between services, we will come back and re-service at no additional charge to you!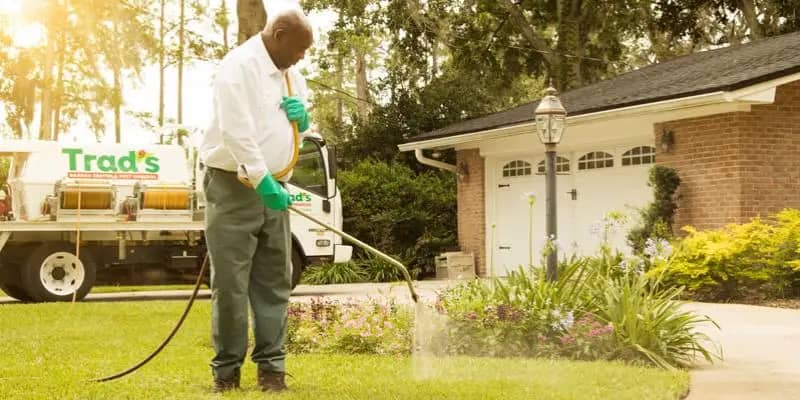 Lawn service can be challenging—with our heat and humidity, it takes dedication and expertise to create a healthy, thriving lawn. That's where Trad's Pest Control comes in. With our comprehensive lawn service and our dedication to customer service, you can trust that Trad's will make your lawn the best-looking yard on the block!
Comprehensive Protection from Disease and Pests
Here at Trad's, we believe that lawn service is a partnership: we protect your lawn from disease, insect attack, and weeds, which makes it simple for you to mow and water with ease. Our biggest priority is helping our customers maintain the greenest, healthiest lawn they can have, and that includes top-notch customer service—that's why our lawn service is comprehensive and completely guaranteed!
When you partner with Trad's for lawn service, you can expect:
Fertilization
Treatment for broadleaf weeds, crabgrass, and sedges
Disease prevention to fight against large patch, dollar spot, and gray leaf spot
Insect control to prevent sodworms, mole crickets, chinch bugs, armyworms, and fire ants
Professional advice on how to best maintain your lawn between treatments
Optional add-ons like shrub care, weed control in shrub beds, and more for total yard care
Every other month treatment
Re-treatments and service calls as needed
Eco-Friendly Solutions For Your Peace of Mind
Lawn service can seem overwhelming. It's hard enough to choose between all of the pesticides and fertilizers on the shelf at your local hardware store, but knowing which ones are the most environmentally safe is nearly impossible. With Trad's, you'll never have to worry: we work hard to provide you with lawn service with products and solutions that are low risk, EPA-approved, and in line with Integrated Pest Management (IPM) techniques.
Our specialty, high-performance fertilizer program is sustainable, biodynamic and carbon forward. Among other ingredients, our fertilizers are made with seawater, kelp, and natural humic acid. Our products allow us to use less nitrogen and balance plant science and soil science for a sustainable fertility program. Our biodynamic fertilization program utilizes natural products that have kelp and natural humic. It is watershed-friendly. All products are people and pollinator-friendly. With us, all you'll have to worry about is how you're going to enjoy your beautiful lawn.
Convenient Service
Day-to-day life is hectic—don't add stressing out over picking the right lawn care company! Here at Trad's, we believe in making lawn services in Northeast Florida easy, affordable, and straightforward. As our motto says, with us you get 100% Integrity, 100% Effort, 100% of the Time. That's why we offer convenient same-day, if available, and Saturday servicing, online booking, and monthly billing. These perks are designed to make your lawn service experience as effortless as possible—because that's what you deserve.
Trust the Lawn Experts at Trad's
When you want lawn service, you want solutions you can trust. Here at Trad's, that's what we provide. Not only are our service professionals trained to make our treatments as minimally invasive as possible, but all of our technicians undergo both in-class and hands-on instruction. Even better, no matter what their area of expertise, they receive training in all areas of our lawn care program to make sure they provide your lawn with everything it needs. That's our promise to you.
We provide professional lawn service in Northeast Florida and the surrounding areas:
The Best Professional Lawn Care In These Jacksonville Metro Area Communities: